All you need is a 6″ x 6″ piece of cardstock, Envelope punch board, Paper trimmer, adhesive, candy to fill the box. 🙂
Here's the directions:
1.You need to cut a piece of cardstock or Designer Series Paper (DSP) 6″ x 6″.
2. Using the Envelope punch board, line up the left edge of the paper at 1 1/4″ and punch and score down the diagonal line to the right.  Move the paper to the left and line it up at 2 3/4″, punch and score the same as before.  Turn the paper the opposite side and do exactly what you did on the top of the paper.  I have drawn in the score lines and your paper should look just like the picture above except you have score lines where I have drawn lines.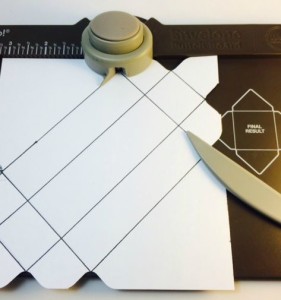 3. Now turn the paper to the sides you haven't done anything with yet.  Line up your previous score lines with the "Score Guide."  It's the pointy piece coming off the punch in the top center.  Punch and score.  Move to second score line, punch and score again.  Follow step 3 again on the opposite side.
4.Use the Reverse Punch at the top center of the board.  This will corner round your two pointy pieces on the top and bottom.  See picture above.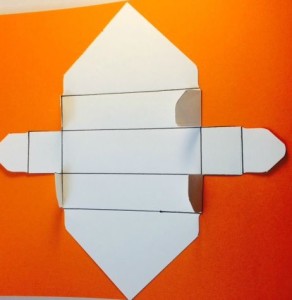 5. Cut down the score lines on both sides on top and bottom to make the tabs.
6. Use a trimmer and line up the top and bottom point at 2 3/4″  and cut a triangle shape off each side.  See picture above.
7. Use sticky strip or Tear & Tape Adhesive along one side of box.  I used sticky strip so it would show up well in the picture.
8. Fold the side over and seal.  Put the tabs in and seal the box.  When using the 6″ x 6″ paper the box is snug with the full size Snickers inside.  Use  tape or adhesive to keep the tabs in place.
I love making these cute boxes and I hope you do too!  Please leave a comment and also let me know if you have any questions.  Please subscribe to my blog for many more 3D gift items and cute and simple Stampin' Up! cards.
Blessings,
Beth 🙂
Please click on the links below for other Snickers boxes I have made.
Click Here  and Here